2015 BURNT HILLS BALLSTON LAKE COMMUNITY FLAG DAY PARADE:
WHAT IT MEANS TO BE "GRAND"
by Robert Falkenburgh of Northway Tile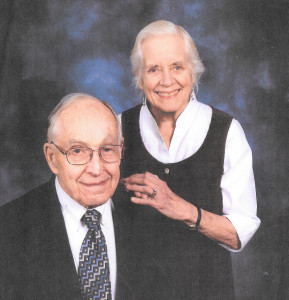 Something has to be considered pretty darn special to carry the connotation of "Grand" before its name: Grand Canyon, Grand Piano, Grand Slam … Unarguably, all of these are examples of things that are truly "grand." Impressive, significant, and exceptional are also terms that come to mind when defining this extraordinary adjective. Appropriately, Charlie and Pat Merriam, the Grand Marshals of the 2015 BH-BL Community Flag Day Parade, are all of these things and more. Having spent most of their lives in Burnt Hills, the Merriams have earned the title of "Grand Marshals" based upon their prodigious service and dedication to their beloved community.
Pat's family roots in Burnt Hills go as far back as the early 1900's, when her grandfather Claude Bailey established the Fo' Castle Farm. Mr. Bailey also set the precedent of strong community service for his family upon his arrival in the area, which is likely where Pat developed her desire to give back to her hometown. Over the years, Mrs. Merriam has been a German language teacher at Burnt Hills High School, where she notably established the "Job Match" program to help students find local jobs. She has also served as a board member of The Charlton School, and has been on the staff of the local United Way chapter as well. Additionally, she has been an Executive Director with the Girl Scouts of America, and was an instrumental participant in the "Ballston 225" celebration in 2013. On a personal level, she has been married to her loving husband Charlie for 36+ years, and has raised two lovely daughters in her cherished Burnt Hills.
Family patriarch and World War II veteran, Charles Merriam is certainly no slouch as an accomplished resident of Burnt Hills as well. In addition to his role as Town Justice, Charlie's impressive resume includes involvement with the local Meals on Wheels program, the Republican Party Committee, Calvary Episcopal Church, The Saratoga Industrial Development Agency, and Chairman of Ballston's Ethics and Community Directory committees. Through all of his social and political involvement Charlie's dedication and leadership have contributed immeasurably in establishing Burnt Hills as a great place to live, work, and raise a family.
Taking all of their wonderful efforts into account, it is no surprise that this fine couple has been chosen as the Grand Marshals of the 14th Annual Burnt Hills Ballston Lake Community Flag Day Parade, which takes place on Thursday, June 11th 2015. This traditional small town event is a great source of community pride for everyone in the town and the surrounding areas, and who better to lead the way along Route 50 than two such outstanding community icons: Charles and Pat Merriam. The parade kicks off at 7PM, so don't be late, and be sure to give our truly "grand" Grand Marshals a hearty wave and thanks for all of their spirit and loving dedication to our fine town!