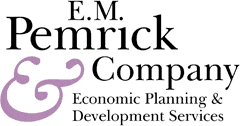 P.O. Box 1010, Ballston Lake, NY 12019-0010, USA
60 Eastside Drive
Ballston Lake
New York
12019
US
Economic Planning and Development Services
E.M. Pemrick and Company is an independent consulting firm providing a range of community and economic development planning services. We combine technical expertise in economic development and market analysis with a strong commitment to enhancing the vitality and success of client communities.
E.M. Pemrick and Company offers a balanced approach to economic development. We recognize the value of diverse industry sectors, including agriculture and tourism, and the importance of small and local businesses as well as large employers. We support efforts to expand economic activity without compromising the natural resources or aesthetic character that are at the heart of a community's identity.
Our clients include municipal and county governments, economic development organizations, and planning and engineering firms. We have worked with communities in New York, Virginia, Massachusetts, Pennsylvania, Delaware, and Ohio, and have extensive experience at all levels from downtowns and Main Streets to counties and regions.
E.M. Pemrick and Company's work is characterized by insightful analysis, realistic solutions, and the ability to understand and articulate issues, challenges, and opportunities. While our assignments vary in size and scope, we have high standards for professionalism and integrity and take great pride in helping our clients to achieve their goals.